For many, music at a wedding is one of the most important things to get right.
Here at the Mozart Symphony Orchestra we just love playing for weddings. There is so much great music to choose from and helping the bride and groom find their perfect pieces is something at which we excel.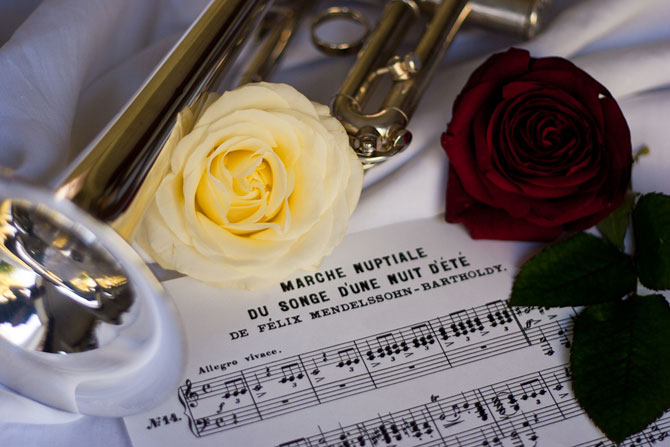 From the moment of first contact with us we will be listening to you to make sure we understand your wishes. If you prefer we can suggest and advise, but if you already know what you want then we can make that a reality.
We can supply you with anything from a single harpist to a full symphony orchestra and play any music you choose, be it atmospheric, ceremonial, entertaining or for dance.
If you hire the whole orchestra, this can easily be split into parts and used in its full glory later on. For example, a brass quintet could be playing during the ceremony, the flute and harp could be on standby for the drinks reception, a string quartet could play people into the wedding breakfast and a classical orchestra could then provide atmosphere during the meal. After the meal you may want the orchestra to play some of your favourite classics and then perhaps provide some Viennese Waltzes for an evening dance. The possibilities are nearly limitless and all of this would be included in the price of hiring the orchestra.
Each wedding is a bespoke event tailored exactly to your needs and prices are calculated on an individual basis but you may find it handy to see some example prices:
A string quartet for the service only: £600
A string quartet for the service and drinks: £800
A string quartet for the service, drinks and wedding breakfast: £1000
An orchestra of 40 players to perform for up to 2 hours in multiple locations and formats: £9000
Prices reflect a London wedding. Out of London may incur some travel expenses.